Current exhibits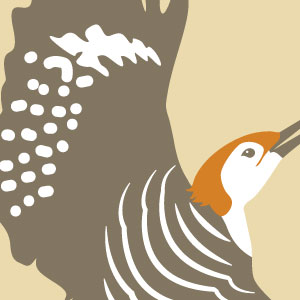 Past exhibits
Avian Artistry: Treasures from Maine Collections
May 26 - August 17, 2023
Take a journey with Avian Artistry:Treasures from Maine Collections, one that begins in Maine then ranges through eras, geography, and styles. The result is a surprising—and very personal—story of community and the celebration of visual art. The exhibition includes more than 100 pieces from private collections in Maine, many of which have never before been exhibited in public.
Each work features a bird in some fashion, but the species represented are as diverse as the materials and styles used to create them. An iconic woodblock print from 1857 by Ando Hiroshige hangs near a contemporary sculpture from the 1960s of wood, wrought iron, and brass by Maine sculptor Rudolph Condon. In another room, intricately inlaid Japanese metalwork birds of the early 1900s accompany prints and acrylics from the 2020s.
Birds soar and swim, flutter and feed, dive and hide from room to room, in stone and paper, metal, ceramic, wood and paint, pencil, ink, and even photographs. Both wildly diverse and harmonious, Avian Artistry tells the story of generations of Maine people brought closer to nature by the work of artists born centuries apart, but all inspired by feathered muses.
The Wendell Gilley Museum is grateful to the passionate and generous people who have made Avian Artistry possible by lending treasures from their personal collections.
Moments & Reflections
August 23 - December 17, 2022
Sherrie York is a printmaker and a compulsive wanderer of landscapes. In her linocuts, she strives to represent the interactions of living things, both as a moment in time and as a reflection of the wider experience of life on earth.
As a printmaker she has pushed the linocut medium to be uncharacteristically realistic, treating the application of color as a watercolorist might, by glazing multiple layers of transparent inks. She is especially interested in strong rhythms and patterns between a subject and its environment and pays close attention to the shapes around an object, as well as the object itself.
Her linocuts have been chosen for national and international exhibitions, including the multiples times for the Leigh Yawkey Woodson Museum's prestigious Birds in Art, and the Society of Animal Artists' Art & the Animal. Her work is also collected in numerous corporate, private and museum collections, including the Gilley's.
She is also a naturalist and educator, who works with Audubon.
What It's Like to Be A Bird
May 31 - August 20, 2022
May 31 through August 20, 2022
The name "David Allen Sibley" is synonymous with "birding."
A renowned author and illustrator of seminal birding guides and other books, he has brought a keen eye to observing birds in the field, and to rendering them in pencil and paint in the studio. In his latest book, What It's Like to be a Bird, he says, "A bird's experience is far richer, complex, and 'thoughtful' than I'd imagined." And he shows the reader that through a series of stunning paintings in acrylic on Bristol board, and we are pleased to share thirty-four of those paintings at the Gilley. It is a a feast for our eyes, and a true birds-eye view of the avian world.
The paintings in this exhibition are on loan to the Gilley from the artist's personal collection, and have been exhibited only once before now. This is a rare opportunity to experience, in person, the art of this master naturalist and artist.
Birds in Focus: Maine and the Beauty of Birds
May 31 - December 17, 2022
Explore the beauty of Maine's birds through the lens of noted photographer and birder David Speiser, who has been pairing his technical skills and his love of birds for more than twenty-five years to capture portraits of birds in the field worldwide.
Birds in Focus showcases David's love of birding in Maine. His knowledge, talent and keen eye have create amazing works that capture moments of incredible intimacy in the lives of their avian subjects. The photographs in this exhibition are photographic prints on paper face-mounted to polished sheets of acrylic. This produces a wonderful luminous effect, further enhancing the images.
The photographer is selling the photos and donating all of the proceeds to the Gilley.
Light, Sky, Land, and Edges
August 24 - November 1, 2021
LIGHT, SKY, LAND, and EDGES
August 24 - November 1, 2021
It was the landscape of Mount Desert Island and its shores that inspired long-time friends Tracy Baker-White and Martha Andrews Donovan to work together to create art and poetry together. The exhibition 'Light, Sky, Land, and Edges: A Collaboration Between Painter and Poet' celebrates their rich artistic collaboration. This exhibit will be on display at the Wendell Gilley Museum from August 31 to November 1.
Join us on October 9 from 7:00 - 8:30 pm for an online conversation with the creators of this exhibition, Tracy and Martha, and enjoy a wide-ranging conversation about their art, their inspiration, and their collaboration. Visit our events page to learn more and make a reservation.
Please note that the previously planned reception on Saturday, September 4 has been canceled.
Artists use many ways to capture the beauty of the world. Martha and Tracy use photographs, paints, and words to color theirs. While this exhibit is up, the museum will be hosting a number of poetry and art programs for the public, and for our local schools. Keep an eye on out "events" page for details to come.
Birds in Art
June 21 - August 14, 2021
June 21 - August 14, 2021
Birds in Art features work by sixty different contemporary artists, who offer their unique interpretations of the avian world in a variety of media.
The 2020 show (being shown at the Gilley summer 2021) is the 45th iteration of Birds in Art, an international exhibition organized by the Leigh Yawkey Woodson Museum in Wausau, Wisconsin that travels to just a few select venues each year. The show features sixty contemporary artists, including Andrea Rich and Don Rambadt - both of whom have been featured in their own exhibitions at the Gilley - and talented Maine artist Sherrie York. Other artists, spanning a wide variety of media and styles, include Sean Murtha, Barry van Dusen, John T. Sharp, Walter T Mathia, David Timothy Mayhew, Andrea Rich and many more!
This Birds in Art is an especially exciting collection of work. Using a range of mediums including watercolor, acrylic, charcoal, wood, and bronze, the artists depict the beauty, spirit, and habitat of birds through approaches that are both classic and innovative.
We are indented to the Leigh Yawkey Woodson Art Museum for making this show possible, and for sharing great art every year through Birds in Art. Thank you also to Maine Magazine, the official Media Sponsor for the Birds in Art exhibition at the Gilley.
Pictured at top of the page; Sherrie York, A Tern of the Tide (1/18) detail, 2020, reduction linocut on Rives BFK paper
Gary Hoyle's Aspects of Nature
May 17 - June 16, 2021
May 14 - June 16, 2021
Swan's Island artist Gary Hoyle has a unique way of making water and oil work together to create paintings that look like Aerial view of landscapes from another world. These gorgeous paintings will be on view alongside his more representational landscape paintings, which share a beautiful muted and saturated pallete. We'll also be exhibiting some of Gary's realistic animal sculptures and a variety of his watercolors and drawings, many of which show a keen sense of humor. Gary Hoyle: Aspects of Nature opens on May 14. Gary will share his own thoughts on his art and his work during an online program on Tuesday, June 8, at 7pm via Zoom. There is no fee to attend, but registration is required. Sign up HERE.
Museum visitors became familiar with Gary Hoyle's artwork over the past few years - his colorful interpretations of marshes were the perfect landscape setting to complement Harold Haertel's carvings. In conjunction with the exhibit, Gary will talk about his marbelizing technique, which he accomplishes by floating a canvas on a water surface with a thin layer of dilute oil color on top. After allowing several of these to dry, Hoyle then continues painting with oil paint and a brush to create a birds-eye view of topography that has characteristics of incredible Earthly scenes or terrain from another planet.
Gilley Community Art Show 2020
December 2, 2020 - January 31, 2021
We got creative in 2020, offering classes and workshops outside, via livestream, and on our website. And our community responded by getting creative, too. Scroll through our slideshow to see all the art, and click on individual photos to find out more about an individual piece. To submit a photo of something you created, email it to Melinda Rice-Schoon at mel@wendellgilleymuseum.org.
Natural Talent: The Carvings of Harold Haertel
June 23, 2020 - April 3, 2021
Bird carver Harold Haertel was a well-known contemporary of Wendell Gilley. Born the same year, both men became leading names in the world of bird carving, and had successful careers creating and selling thousands of carvings.
The Wendell Gilley Museum hosted a special exhibition of work by Harold Haertel in 2019, featuring over eighty carvings - the first major show of Harold's work. It is fascinating to see work by Wendell Gilley and Harold Haertel in the same gallery space. Both men were extremely talented, and their talent was expressed in very different work. Through the generosity of Harold's son, Tom Haertel, Natural Talent: The Carvings of Harold Haertel, will be reinterpreted in 2020 and return to the main museum gallery in 2021, keeping his work accessible for all of our visitors.
See a short 20 second video that shows some of Harold's carvings
Treasures of the Farnsworth: Maine Masterworks
June 21 - October 19, 2019
Treasures of the Farnsworth: Maine Masterworks offered visitors the opportunity to study masterpieces of Maine landscape painting as well as sculpture and works on paper by some of Maine's foremost avian artists. On view from June 2019 - October 19, the exhibition drew from the remarkable collection of American art at the Farnsworth Art Museum in Rockland, Maine.
The paintings in this show carried us across Maine, with Mount Kineo on Moosehead Lake, Monhegan Island, Seguin Light, Great Spruce Head Island, and our own Southwest Harbor among the many stops. Along the way there were surprises: Sanford Gifford's rendering of the egg of the roc, a legendary bird of prey; Emily Muir's view of Penobscot Bay lit up by glorious rays; and one of acclaimed sculptor Louise Nevelson's rare back-road Maine landscapes.
Curated especially for the Gilley, "Treasures of the Farnsworth: Maine Masterworks" presented a mini-history of American art. Representing the 19th century, there were prime Hudson River School/Luminist paintings by Alfred Bricher, Fitz Henry Lane and Martin Johnson Heade, a pair of George Inness's ethereal Tonalist landscapes, and a choice example of Willard Metcalf's Impressionism. From there we moved to the early 20th-century Ashcan School and Modernist aesthetics of Robert Henri, Randall Davey, Leon Kroll, and Marsden Hartley, their canvases marked by bold brushwork. Finally, we were treated to varieties of remarkable realism as practiced by Fairfield Porter, Dean Richardson, Neil Welliver, and Jamie Wyeth.
Highlighting how winged creatures can inspire a range of creative interpretations, a trio of paintings by Jamie Wyeth graced the walls next to iconic reliefs by Bernard Langlais. A gorgeous bronze bird by Nevelson joined a group Edwin Gamble's abstract aerodynamic bird sculptures in wood and metal, expressing a joyful connection to nature and serving as artistic kin to Wendell Gilley's masterful carvings.
"Treasures of the Farnsworth" represented a collaboration of two Maine cultural institutions committed to making great art accessible to a broad audience. To year-round islanders, local schools, and seasonal visitors alike the Gilley offered this special opportunity to spend time with an extraordinary collection of art.