Learn & Do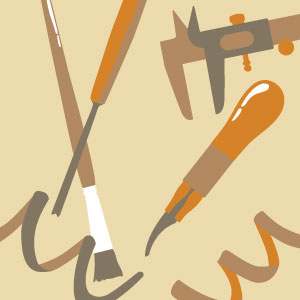 Learn & Do
For a complete list of all upcoming events: Events page

---
Online Resources
We have had to cancel April programs and classes to ensure the health and safety of our members, community and staff. We're looking forward to getting our programs up and running and having the museum full of people again as soon as possible.
In the meantime, we are putting resources online, including online art lessons, nature resources, and more. Visit our NEWS page for a list of online resources.
Philosophy of programming
Following in the footsteps of Wendell Gilley, we endeavor to help people make connections to art and nature, and to their own creativity. The programs we offer explore nature and the arts, and offer many opportunities for learning and creativity for all ages.
Many people reflect fondly on memories of dropping by and spending time with Wendell in his studio, watching him carve and learning from him. At the museum, you can visit with our Master Carver Steven Valleau (read his bio here), who has been carving at the Gilley for over 30 years. You can share Steve's passion for birds and learn about carving (maybe even try your hand at it), and sign up for one of our many creative classes or learning programs.
Along with a full-time artist on staff, we also bring in local artists, educators, and experts in natural history and the environment for special programs. Our events page lists all of our upcoming activities. If you are interested in learning to carve, you can sign up for a lesson or a lifetime; short and long workshops and a carving club are offered. Teachers and youth group leaders are welcome to schedule art and natural history programs year-round.
Types of activities offered
Carving
Watch Steve, or one of our Member carvers at work or enroll in a workshop yourself.
Demonstrations are given during most days that the Museum is open. Workshops, ranging from an hour and a half to ten weeks in duration are offered throughout the year:
- longer carving programs in the late fall, winter and spring
- short (2 hour) lessons offered from late June - late September.
- weekly Carving Club - free for museum members - meets late October through late April.
All programs require advance registration and are taught by Carver-in-Residence Steven Valleau.
Our carving workshops can be found lower on this page, and on our Events page.

Special programs
Throughout the year, the Museum staff works with schools and other institutions to create customized tours and workshops.
Groups from nursery, elementary and high schools, colleges, elder hostel and cultural touring organizations are among those served. Program content includes art, natural history and wildlife protection, and can be adapted to meet the needs of various audiences. Contact us at 207 244-7555 to discuss a special program, or design your own around the resources at the Museum.
Groups info
School groups
We welome school groups.
School groups are charged an admission fee of $2.00 per student and an additional $1.50 per student materials fee for all programs except Time Flies and Owl Ecology, which have a materials fee of $3.00. Teachers and chaperones are admitted free. Admission for adult tour groups is $5.00 per person, with free admission for group leaders. A discounted rate of $4.50 per person is offered for groups with 25 or more members with advance reservation and prepayment. There is a $30.00 minimum charge for group programs. Limited scholarship funds are available for school groups. If reduced or waived fees would make it possible for your class to participate in our programs, please inquire.
Private functions
The Gilley Workshop Wing is offered as a meeting place for non-profit groups for a basic fee of $75.00. The space includes a kitchen, work-style tables, chairs, and an A/V system with a large television and microphone for presentations. Rates for private and business functions and/or use of other galleries are negotiable.
Outreach
If your group is unable to visit the Museum, outreach programs can sometimes be arranged. Current mileage rate of .50/mile applies. Program rates vary.